SPAC Overview:
Special Purpose Acquisition Companies (SPACs) are a relatively new and rapidly growing financial vehicle used for raising capital and going public for private companies. In the United States, over $500M was raised in 2004, over $2B raised in 2005, over $3B raised in 2006 and over $12B in 2007. In 2007, activity was substantially stronger than 2006 and currently there are over 80 SPAC's that are actively seeking acquisition candidates or have announced a target and are pending closing the merger.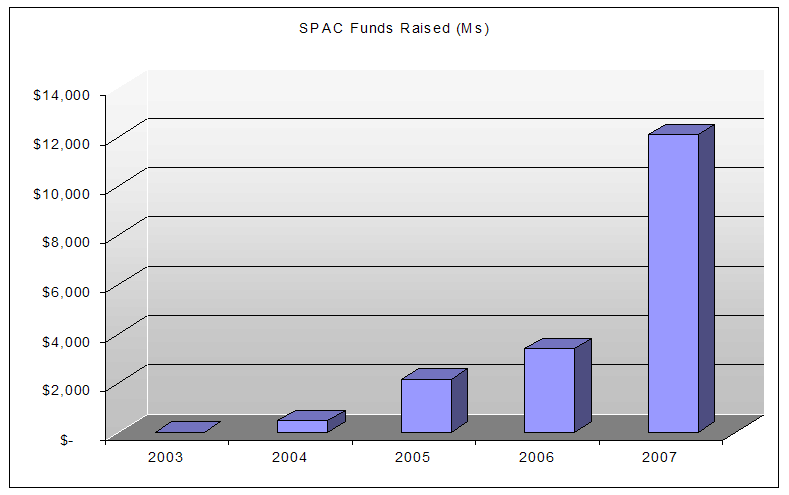 As the SPAC market has matured, the terms to investors have improved meaningfully and the quality of banks underwriting and sourcing management teams for SPACs have improved as well. These trends support the view that SPACs have secured a position as a source of new capital for small to mid capitalization companies.


Goal of the Service:
To provide a comprehensive database of all SPAC information that can be accessed in an easy and quick manner as well as to keep subscribers informed of all SPAC activity with timely email updates.
Subscribers to the Service Will Have Access to:
Announcement Deadline Table:
· Keeps track of upcoming dates by which SPAC must announce an acquisition or otherwise liquidate
· Typically SPACs that start to run out of time will become much more willing to consummate a deal
Shareholder Vote Date Table:
· Estimate shareholder vote date, keeps track of proxy filing process, estimates definitive proxy and shareholder vote dates
· The announcement of a definitive shareholder vote date can be a positive catalyst for a SPAC and thus an important date to track and estimate
· It is important to keep track of merger termination dates for potential deal failure risk
All SPACs Table:
· Provides relevant summary information for all SPACs in one table. Included for every SPAC:
o Management $ at risk
o Maximum redemption %
o Lead banker
o Warrant strike price
o SPAC focus & comments
· Users can sort any column in the table with a click on the column header and get quick answers to questions such as:
o Which SPACs have highest management contribution?
o Which SPACs are lead by a banker like Citigroup?
o Which SPACs have $5.00 warrants?
o Which SPACs are focused in a sector such as China?
SPACs in Registration Table:
· Keeps track of all SPACs which are actively filing S1s to get ready to go public (shows total number of SPACs registering and gross proceeds in pipeline)
· Investment bankers / prospective SPAC management teams can use this table to keep track of the flow and details of new IPOs which can help them manage their own new SPAC process
· Portfolio managers can identify early in the filing process which SPACs look most interesting and contact the SPAC bankers to reserve the allocation they want
SPAC database:
· One page summary of all relevant information for every active SPAC
· Management biographies for each SPAC
Timely Email Updates:
Subscribers will be kept informed of all SPAC activity by receiving timely email updates for:
New SPACs that file a S1 in preparation for going public

Acquisitions announced by SPACs

SPACs closing acquisitions
In addition, subscribers will have access to call our staff to ask questions they may have about SPAC data / structure.
Who is this Service for?
Investment Bankers: who want to keep a tab of current events and capital transactions in the entire universe of SPACs.
Start up SPAC Management Teams: who are looking for information to help assist them in their formation of their SPAC
Established SPAC Management Teams: who want to keep a tab of current events and capital transactions in the entire universe of SPACs.